Working positively together to get the job done

the best way possible.

Northcom consists of 20 people and has the largest cabling team in Northland. This means we have the human resources to complete your projects, whether they are big or small, within the timeframes required.

Northcom's team have the technical skills, experience, and knowledge to deliver all cabling, data-networking, fibre and wireless applications. We are experts in all the latest technology and we pride ourselves on delivering an efficient, reliable and professional service every time.

Our specialist technicians work to the highest industry compliant standards and we are committed to continued development to ensure we offer the latest knowledge and expertise on new and emerging technology.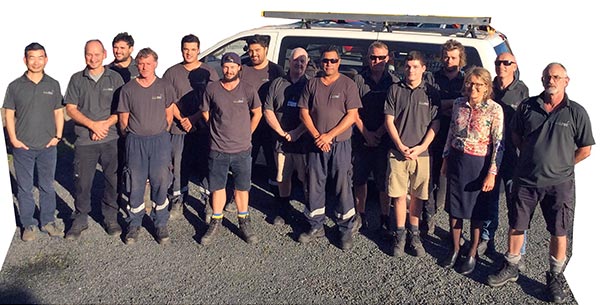 Team Managers
Penny Shiffner
Business Manager
Penny is a highly experienced business manager and has worked in regional management roles, marketing roles and roles responsible for implementing health and safety standards, new operating systems and organisational change for many years. She enjoys being part of a hardworking, talented and friendly team who value professional company outcomes.
Penny will talk to you about any business enquires you have, invoicing queries and accounts.
Nicholas Orman
Quantity Surveyor
Nik has over 35 years' experience within the telecommunications industry as a linesmen, technician and designer. His expertise includes data network design, fibre optic installations and testing for certification.
Nik will talk to you about your project, visit the site, advise on installation and the components required to provide you with an efficient network. He will provide you with a comprehensive quote from plans or after a visit to scope.
Kayla Brown
Project Coordinator
After working with Northcom for a couple of years, Kayla has gained a variety of experience in the business with both the fibre connection and data cabling work. She is continuing her education by completing papers towards the New Zealand Diploma in Workplace Health and Safety Management qualification.
Kayla orders the materials and allocates the manpower for your project. She keeps communication flowing throughout the team and your site managers, so the project needs are understood and executed effectively.
Kayla is also responsible for ensuring Northcom complies with our health and safety obligations and will provide you with the appropriate paperwork you require to satisfy pre start commitments.